October: Hunter's Moon
October's Full Moon is the Hunter's Moon. It is also called Drying Rice Moon, and sometimes Blood Moon or Sanguine Moon.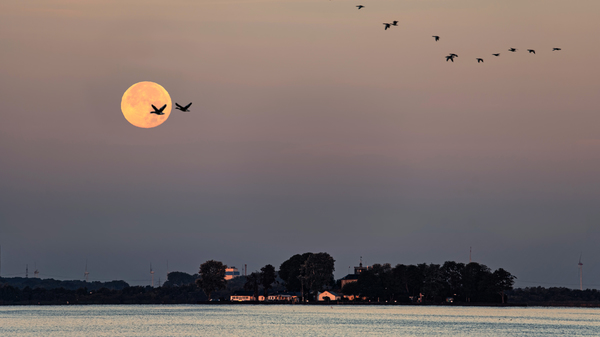 Hunter's Moon 2023
Oct 28, 2023 at 4:24 pm
Hunter's Moon 2024
Oct 17, 2024 at 7:26 am
Times for the Hunter's Moon vary by time zone. Times and dates are based on the local time in Washington DC. Change location
What is the Hunter's Moon?
Traditionally, people in the Northern Hemisphere spent October preparing for the coming winter by hunting, slaughtering, and preserving meats, giving this Full Moon its Anglo-Saxon name Hunter's Moon. The name was added to the Farmer's Almanac in North America and is used widely today.
Native Americans named this Full Moon after things that happen in the fall, including Drying Rice Moon, Falling Leaves Moon, and Freezing Moon. The Celts used Seed Fall Moon in the same way.
The names Pagan Blood Moon or Sanguine Moon have also been used for this Full Moon. However, these names should not be confused with a Blood Moon—anther name for a total lunar eclipse.
Eclipsed Hunter's Moon
In 2023, a partial eclipse of the Hunter's Moon can be seen from Europe, Africa, Asia, Australia, and eastern parts of North and South America.
Harvest Moon Some Years
Every three years, the October Full Moon is also the Harvest Moon. This particular name is given to the Full Moon closest to the September equinox, which is the start of fall in the Northern Hemispere.
However, the astronomical seasons do not match up with the lunar month. Therefore, the month the Harvest Moon occurs in varies. Most years, it is in September; however, every three years or so, it falls in the month of October.
When are the Full Moons this year?
12 Full Moon Names
The Full Moon has been integral to tracking the change of months and seasons since ancient times.
Some years have 13 Full Moons, which makes one of them a Blue Moon, as it doesn't quite fit in with the traditional Full Moon naming system.
Today, we use many of these ancient month names as Full Moon names, and many of them come from the Colonial Americans adopting Native American names into their calendars.
Although the most commonly used Full Moon names are English interpretations of Native American names, some are also Celtic, Anglo-Saxon, medieval English, and Neo-Pagan.
When are the Full Moons this year?
Sleep, crime, and menstruation: how Full Moons affect humans