Take Good Pictures of the Moon
The Moon isn't the easiest to photograph, but it doesn't have to be that way. Follow our step-by-step guide and capture that perfect Moon picture on your phone and your camera.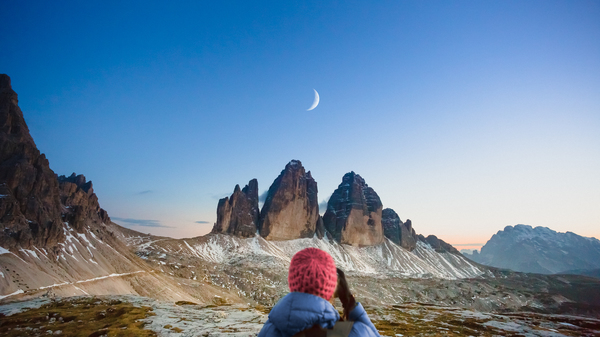 It happens to the best of us; you notice the Moon looking particularly pretty in the sky, but when you point your camera at it, the result is just a blurry bright dot in a big sky.
With a bit of planning and some pro tips, you can capture our elusive Moon with the camera on your phone or a more advanced camera.
5 Universal Tips for Moon Photography
Take a Good Photo of the Moon with Your Phone
Phone cameras often have a wide lens and a small sensor, so the Moon might come out looking like a blurry dot of light in the sky. But there is a new generation of phones that let you take better pictures of the Moon. Here is how you can play to the strengths of your phone camera:
Compose your image: Use your phone's viewfinder and make use of the scenery around you by including trees, buildings, and reflections.
Control your exposure: Most phones let you control the image's exposure, usually by sliding your finger up and down the screen.
Turn off the flash: The flash will disturb the natural light.
Use ambient light: Capture different light sources. For example, during the blue hour, light from buildings gives a warm glow complementing the moonlight.
Activate night mode: Newer phones often have night mode; this means slower shutter speeds from 1 to 30 seconds. How many seconds you need to expose the Moon depends on the phase and the light around you.
Zoom in: Newer generation Apple and Android phones will let you zoom in to make the Moon bigger in your shot.
Use a tripod: Keep that phone still. At slower shutter speeds, the camera is prone to blurry images if bumped.
Raw for high resolution: Some newer generation Apple and Android phones let you take uncompressed—raw—images.
Use an editing app: Edit your image in an app like Lightroom to enhance details.
Moon Photography Settings for DSLR Cameras
Use the big lens: A focal length equivalent of 200 mm or more helps the Moon look large in the image.
Use a low ISO: Keep your ISO setting between 100 to 200 as the Full Moon is bright.
Medium aperture: Set your aperture to f/5.6 to 11.
Stabilize your camera: Use a tripod or another stable surface like a fence or the ground. Use your timer, a shutter with a cord, or a remote to minimize camera movement.
Manual exposure: Underexpose rather than overexpose the Moon.
High resolution: To capture as much information and detail as possible, set your camera to the highest resolution (jpeg) or take uncompressed images (tiff or raw).
Flash highlights: A flash can be used to light up your subject. Set the exposure for the Moon and sky.
Keep shooting: Play around with different apertures and shutter speeds, and you might just get that perfect shot.
Edit your images: You can also crop, add contrast, tweak colors, layer, and so much more by processing your images using photo processing software.