Feb

9

Fun Holiday – Bagel and Lox Day
Also known as National Bagel Day, Bagel Day
Bagel and Lox Day is an unofficial holiday dedicated to the quintessential Jewish American dish made of bagels, cream cheese, and lox or cured salmon.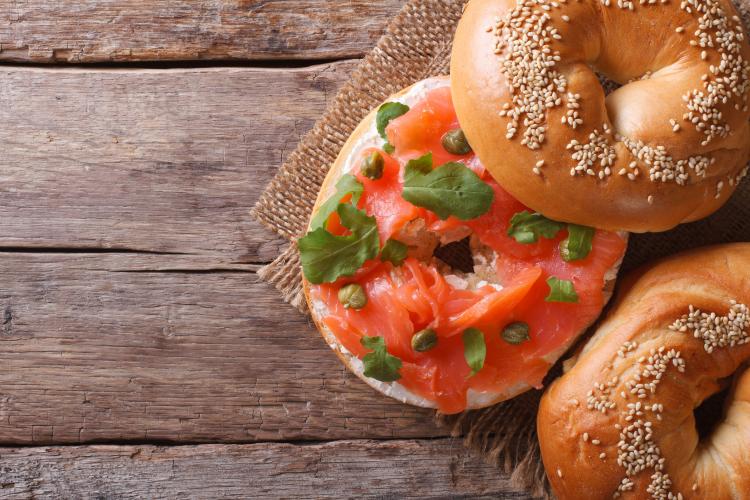 This holiday of unknown origins is also often known as National Bagel Day or Bagel Day. In 2018, Thomas', a division of Bimbo Bakeries USA, decided to move the date of National Bagel Day from February 9 to January 15 to avoid competing with National Pizza Day.
Despite this, many people still prefer to celebrate this holiday on the original date of February 9.
Ring Shaped Bread
Popularized first by Jewish immigrants in New York City, bagels and lox is a classic combination and is a dish usually eaten during breakfast or for brunch.
Traditionally from Poland, bagels are ring-shaped bread made out of wheat dough that is first boiled and then baked to give it its distinctive chewy texture. The hole in the middle is thought to make it easier for the bagel to cook as well as easier for bakers to transport and store lots of bagels at one time – all they need to do is to string a rope or thread through the bagel holes.
Lox and Schmear
The word lox is derived from the Yiddish word for salmon, laks. In the United States, lox is brined and cured salmon that has been sliced very thinly. On a bagel, it is usually served with cream cheese, popularly called schmear, from the German word for spread.
How to Celebrate
This one's easy. Just go to your closest deli and get yourself a bagel with cream cheese and lox.
Don't have a deli close to you? Make the sandwich yourself at home – all you'll need is some cream cheese, a bagel, and some lox. Add a slice of tomato or onion and you have a delicious meal ready!
Did You Know…
...that the shape of a bagel – a ring with a hole – is technically called a torus? The word torus comes from the Latin word for cushion.
Bagel and Lox Day Observances
Fun Holiday: Bagel and Lox Day Observances
Year
Weekday
Date
Name
2023
Sun
Jan 15
Bagel and Lox Day
2023
Thu
Feb 9
Bagel and Lox Day
2024
Mon
Jan 15
Bagel and Lox Day
2024
Fri
Feb 9
Bagel and Lox Day
2025
Wed
Jan 15
Bagel and Lox Day
2025
Sun
Feb 9
Bagel and Lox Day
2026
Thu
Jan 15
Bagel and Lox Day
2026
Mon
Feb 9
Bagel and Lox Day
2027
Fri
Jan 15
Bagel and Lox Day
2027
Tue
Feb 9
Bagel and Lox Day
2028
Sat
Jan 15
Bagel and Lox Day
2028
Wed
Feb 9
Bagel and Lox Day
2029
Mon
Jan 15
Bagel and Lox Day
2029
Fri
Feb 9
Bagel and Lox Day
2030
Tue
Jan 15
Bagel and Lox Day
2030
Sat
Feb 9
Bagel and Lox Day
2031
Wed
Jan 15
Bagel and Lox Day
2031
Sun
Feb 9
Bagel and Lox Day
2032
Thu
Jan 15
Bagel and Lox Day
2032
Mon
Feb 9
Bagel and Lox Day