Sep

5

Fun Holiday – Cheese Pizza Day
September 5 is Cheese Pizza Day, a day to indulge in a slice (or two) of the classic and simple cheese pizza.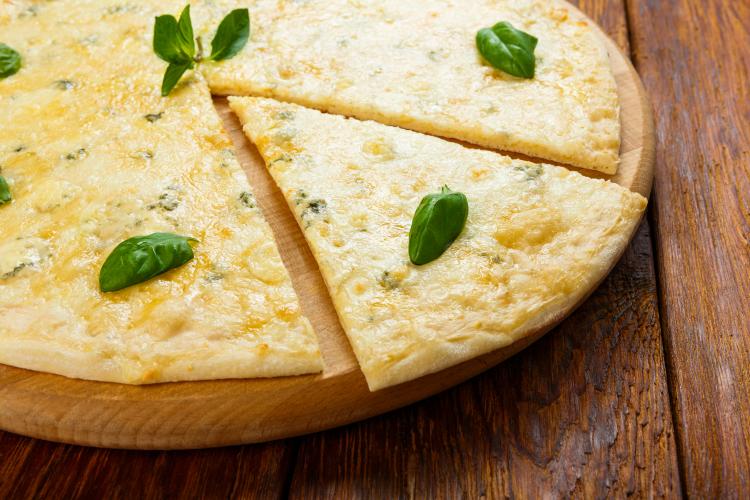 While the origins of this fun food holiday are unknown, we can all safely assume that it encourages people to pay homage to the humble but delicious pizza pie covered with only tomato sauce, seasonings and cheese.
Hearty Italian Dish
Italian in origin, a pizza is a hearty dish made of rolled out dough topped with tomato, cheese, vegetables or meats, which is baked in an oven before being served. It is believed that the pizza as we know it today originated in Naples, Italy. A Traditional Speciality Guaranteed product in Europe, the Neapolitan pizza is made with tomatoes and Mozzarella cheese. This means that only pizzas made in Naples can be called Neapolitan pizza in the European Union and the rest of Europe.
Fit for a Queen
Legend has it that a variant of Neapolitan pizza, the Margherita, was created by pizza maker Raffaele Esposito in 1889 to honour the Queen consort of Italy, Margherita of Savoy. The pizza represented the national colors of the flag of Italy with the use of tomato, mozzarella and basil.
How to Celebrate?
Celebrating Cheese Pizza Day, which is also sometimes known as National Cheese Pizza Day in the United States, is easy. Here are some ways to celebrate this delicious holiday:
Make your own cheese pizza at home from scratch. Experiment with different types of cheese. Perhaps you could try replacing the mozzarella with blue cheese, brie or some creamy goat cheese?
Have cheese pizza for all your meals. Start with a breakfast pizza, with feta cheese, bacon and eggs. Have a classic cheese pizza for lunch, and a gourmet cheese pizza with your favorite meat and vegetable toppings for dinner. End the day with a dessert pizza - pizza with cream cheese, chocolate and berries.
Visit your favorite pizza place and treat yourself to a slice or two of their cheese pizza.
Did You Know…
...that tomato wasn't a staple addition to the pizza until the 1700s? Tomatoes only became popular with pizza lovers in Italy in the 1900s. Before that, they were thought to be poisonous and unfit for consumption.
Cheese Pizza Day Observances
Fun Holiday: Cheese Pizza Day Observances
Year
Weekday
Date
Name
2023
Tue
Sep 5
Cheese Pizza Day
2024
Thu
Sep 5
Cheese Pizza Day
2025
Fri
Sep 5
Cheese Pizza Day
2026
Sat
Sep 5
Cheese Pizza Day
2027
Sun
Sep 5
Cheese Pizza Day
2028
Tue
Sep 5
Cheese Pizza Day
2029
Wed
Sep 5
Cheese Pizza Day
2030
Thu
Sep 5
Cheese Pizza Day
2031
Fri
Sep 5
Cheese Pizza Day
2032
Sun
Sep 5
Cheese Pizza Day