Feb

5

Fun Holiday – Chocolate Fondue Day
February 5 is Chocolate Fondue Day, a made-up holiday that encourages people to get together with family and friends and enjoy a fondue pot of delicious and gooey melted chocolate.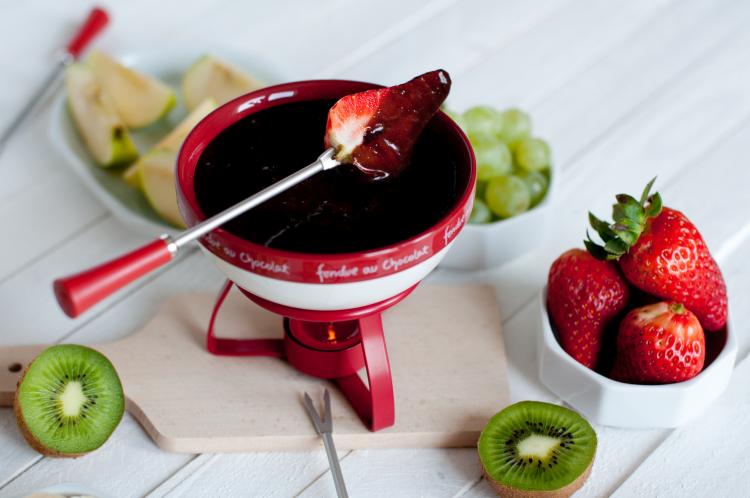 Chocolate fondue is the dessert version of the traditional fondue – pieces of bread and vegetables dipped in melted cheese. In chocolate fondue, pieces of fruit, cake or cookies are dipped into sweetened melted chocolate.
Bringing People Together
Fondue is a communal dish eaten out of a pot that is kept warm with a candle or lamp. The heat keeps the cheese or the chocolate melted and warm. Diners use skewers, toothpicks, or special fondue forks to dip the bread or fruit in the melted cheese or chocolate. Etiquette requires that the dipping instrument is only used to bring the food from the fondue pot to the diner's plate and that diners never double dip their morsels of food in the cheese or chocolate.
An American Invention With Swiss Roots
Thought to be the national dish of Switzerland, fondue is thought to have originated in the country as a way to use up leftover cheese. Original cheese fondue recipes called for the cheese to be mixed with wine and herbs.
Rumor has it that chocolate fondue was first created in the United States, where this holiday is also known as National Chocolate Fondue Day, sometime in the 1950s.
How to Celebrate?
With chocolate fondue, of course! Get your friends and family together and indulge in some delicious chocolate fondue. To keep it healthy, offer an array of fruits – apples, strawberries, oranges, bananas – to the diners.
In addition to fruits, you can also serve cake, cookies, waffles, marshmallows, and ice cream cubes for everyone to dip in the chocolate.
Have a chocolate fondue party. Set up a fondue station with different kinds of melted chocolates and chocolate flavors. May we recommend dark chocolate with bacon bits, salted caramel chocolate, mint chocolate, and white chocolate with sprinkles?
Did You Know…
...that fondue bourguignonne is a type of fondue where diners dip pieces of uncooked meat into hot oil?
Chocolate Fondue Day Observances
Fun Holiday: Chocolate Fondue Day Observances
Year
Weekday
Date
Name
2023
Sun
Feb 5
Chocolate Fondue Day
2024
Mon
Feb 5
Chocolate Fondue Day
2025
Wed
Feb 5
Chocolate Fondue Day
2026
Thu
Feb 5
Chocolate Fondue Day
2027
Fri
Feb 5
Chocolate Fondue Day
2028
Sat
Feb 5
Chocolate Fondue Day
2029
Mon
Feb 5
Chocolate Fondue Day
2030
Tue
Feb 5
Chocolate Fondue Day
2031
Wed
Feb 5
Chocolate Fondue Day
2032
Thu
Feb 5
Chocolate Fondue Day