Feb

2

Fun Holiday – Day of the Crêpe
February 2 is celebrated as the Day of the Crêpe in France.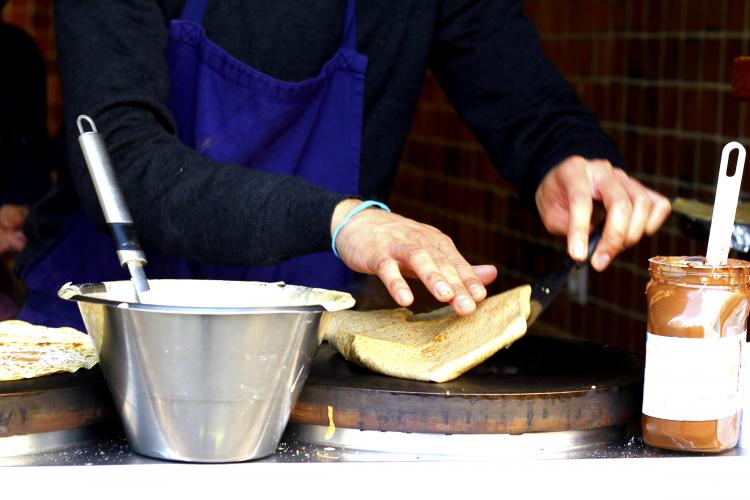 Called jour des crêpes, the holiday is associated with the Catholic feast of Candlemas. On this day households all over France make crêpes. This is because it is believed that crêpes symbolize prosperity.
Thin Pancakes
Crêpes are thin pancakes made from a batter of flour, eggs, milk or water, and butter. Thought to have originated in Brittany, France, they were traditionally made with buckwheat flour, though these days they are made with a variety of different flours including white flour, chickpea flour, and almond flour.
Don't Drop the Coin
In many French households, it is customary to make crêpes while holding a coin in your hand. The belief is that if you flip the crêpe in the air and catch it in the pan without dropping the coin, the upcoming year will be a prosperous year for you.
How to Celebrate?
Make crepes, of course!
Not French or Catholic? That shouldn't stop you from celebrating this delicious dish which is perfect for any meal of the day.
Have crêpes for all your meals of the day – sweet crêpes for breakfast and dessert and savory crêpes with savory fillings for lunch and dinner.
Did You Know...
...that the word crêpe comes from the Latin word crispus, meaning wrinkled and curled?
Day of the Crêpe Observances
Fun Holiday: Day of the Crêpe Observances
Year
Weekday
Date
Name
2023
Thu
Feb 2
Day of the Crêpe
2024
Fri
Feb 2
Day of the Crêpe
2025
Sun
Feb 2
Day of the Crêpe
2026
Mon
Feb 2
Day of the Crêpe
2027
Tue
Feb 2
Day of the Crêpe
2028
Wed
Feb 2
Day of the Crêpe
2029
Fri
Feb 2
Day of the Crêpe
2030
Sat
Feb 2
Day of the Crêpe
2031
Sun
Feb 2
Day of the Crêpe
2032
Mon
Feb 2
Day of the Crêpe