Apr

12

Fun Holiday – Grilled Cheese Day
April 12 is Grilled Cheese Day, a day to celebrate this hearty bread and cheese dish and to make every meal out of it.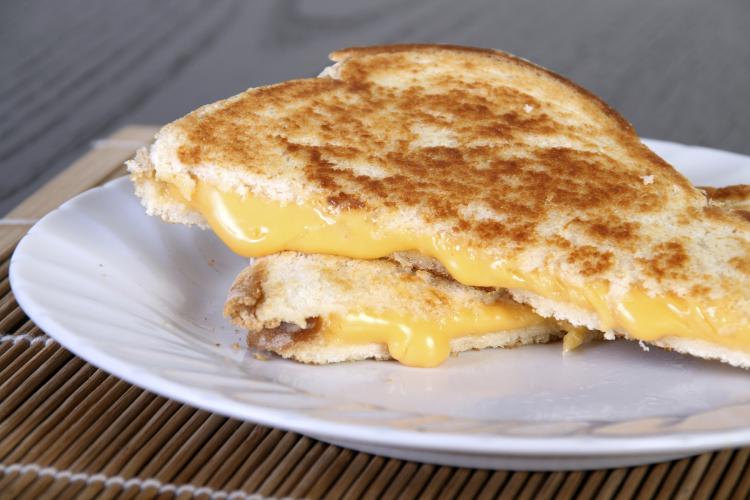 A grilled cheese consists of grilling or toasting a slice of cheese between two slices of bread.
Comfort Meal
Enjoyed today by people around the world as an after school or as a comfort meal, the modern version of a grilled cheese is believed to have originated in the United States during the 1920s when sliced bread and cheese became easily available.
The cheese usually used in grilled cheese is American cheese which is a processed cheese product that has a very low melting point. Hot tomato soup, potato chips, and pickles are common accompaniments of a grilled cheese sandwich.
Cheese Toastie
The British version of a grilled cheese is called a cheese toastie. The cheese of choice for a toastie is cheddar cheese.
The unofficial holiday of unknown origins is also sometimes known as National Grilled Cheese Day.
How to Celebrate?
Make grilled cheese for all your meals. Have an egg and bacon grilled cheese for breakfast, a tomato and mozzarella grilled cheese for lunch, and a traditional grilled cheese for dinner.
Who says grilled cheese has to be savory? Make a dessert grilled cheese with fruit and brie or cream cheese and chocolate spread.
Gourmet up your grilled cheese by adding gourmet ingredients to it. What about adding some bacon into the mix or some arugula and roasted beets for the vegetarians? Substitute tomato soup with sweet potato soup or pumpkin soup.
Did You Know…
…that mozzarella is the most consumed cheese in the world?
Grilled Cheese Day Observances
Fun Holiday: Grilled Cheese Day Observances
Year
Weekday
Date
Name
2023
Wed
Apr 12
Grilled Cheese Day
2024
Fri
Apr 12
Grilled Cheese Day
2025
Sat
Apr 12
Grilled Cheese Day
2026
Sun
Apr 12
Grilled Cheese Day
2027
Mon
Apr 12
Grilled Cheese Day
2028
Wed
Apr 12
Grilled Cheese Day
2029
Thu
Apr 12
Grilled Cheese Day
2030
Fri
Apr 12
Grilled Cheese Day
2031
Sat
Apr 12
Grilled Cheese Day
2032
Mon
Apr 12
Grilled Cheese Day