Jun

4

Fun Holiday – Hug Your Cat Day
June 4 is Hug Your Cat Day. On this unofficial holiday, go give your feline friend a big hug. You never know, the hug might just be the thing to stop them from plotting against you!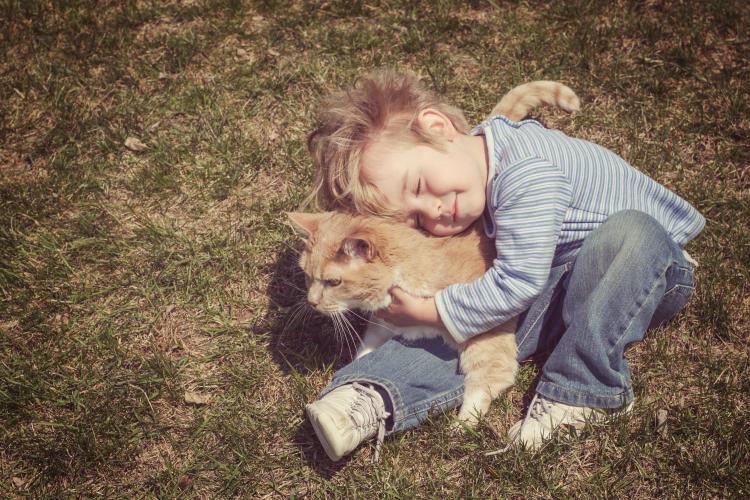 Some people celebrate this made-up holiday on May 3.
Different Signs of Affection
Unlike dogs, cats do not show affection towards humans through loud, obvious gestures. This can lead people to believe that cats do not love their humans as much as dogs so. The truth, however, is far from it. According to animal behaviorists, cats are independent creatures who show love in subtle ways. They may purr at you or just spend time hanging with you to show you their love and appreciation. Bumping heads on their humans is another way cats reveal their affection.
Hug the Stress Away
Although the origins of Hug Your Cat Day, which is also sometimes known as National Hug Your Cat Day are unknown, it is clear that the creators of the holiday wanted people to let their cats know that they are loved by embracing them in a warm hug. Hugging cats can also have health benefits. Studies have shown that giving your cat a cuddle can reduce stress and help you relax.
How to Celebrate?
Hug your cat. If it refuses to hug you back, don't be disappointed. It will show you love some other way. Forgive it for refusing to cuddle with you and instead treat it to its favorite treats.
If you don't have a cat, but always wanted to have one, maybe today is the day to adopt one from the animal shelter.
Don't have a cat, but love dogs? Don't worry, you have a holiday that you can celebrate with your canine friends: Hug Your Hound Day!
Did You Know…
…that cats have 5 toes on their front paws, but 4 toes on their back paws?
Hug Your Cat Day Observances
Fun Holiday: Hug Your Cat Day Observances
Year
Weekday
Date
Name
2023
Sun
Jun 4
Hug Your Cat Day
2024
Tue
Jun 4
Hug Your Cat Day
2025
Wed
Jun 4
Hug Your Cat Day
2026
Thu
Jun 4
Hug Your Cat Day
2027
Fri
Jun 4
Hug Your Cat Day
2028
Sun
Jun 4
Hug Your Cat Day
2029
Mon
Jun 4
Hug Your Cat Day
2030
Tue
Jun 4
Hug Your Cat Day
2031
Wed
Jun 4
Hug Your Cat Day
2032
Fri
Jun 4
Hug Your Cat Day