Sep

11

Fun Holiday – Make Your Bed Day
When you wake up on September 11, make a point to make your bed because it is Make Your Bed Day!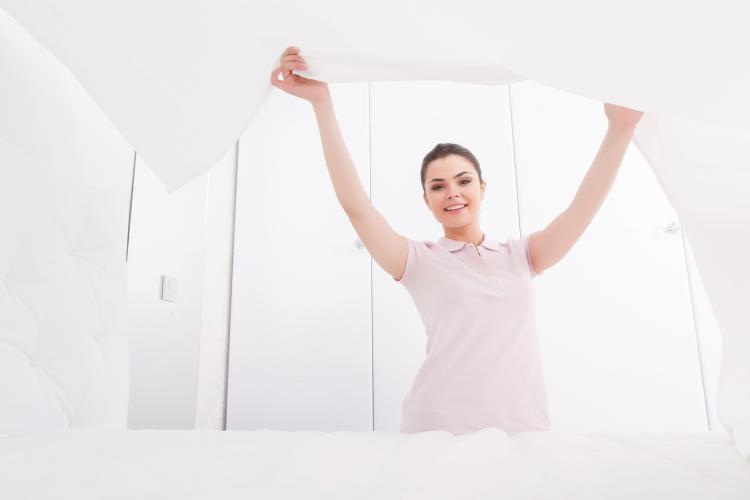 This unofficial holiday with unknown origins encourages people to make and tidy up their beds in the mornings.
Making up the bed or making the bed are expressions used to refer to the act of fixing the bed to look like it hasn't been slept in. This is usually done in the morning.
Sleep Better
Studies show that inculcating the habit of making beds every morning can increase productivity during the day and can make people happier. The idea is that the organization that goes into making beds can spill over to the tasks a person does during the rest of the day. The act also gives people some time before they start their day to meditate over about what they want to achieve during the day.
A clean and made up bed also helps people sleep faster and better.
How to Celebrate?
Make your bed – it take a few minutes and keeps your sleeping areas tidy.
If you were looking to update your bed and your bed linen, today is the day. Nothing is more fun than making your bed with newly washed, starched and ironed bed linens.
Did You Know...
...that French king Louis the XIV is thought to have owned 413 beds?
Make Your Bed Day Observances
Fun Holiday: Make Your Bed Day Observances
Year
Weekday
Date
Name
2023
Mon
Sep 11
Make Your Bed Day
2024
Wed
Sep 11
Make Your Bed Day
2025
Thu
Sep 11
Make Your Bed Day
2026
Fri
Sep 11
Make Your Bed Day
2027
Sat
Sep 11
Make Your Bed Day
2028
Mon
Sep 11
Make Your Bed Day
2029
Tue
Sep 11
Make Your Bed Day
2030
Wed
Sep 11
Make Your Bed Day
2031
Thu
Sep 11
Make Your Bed Day
2032
Sat
Sep 11
Make Your Bed Day