Jan

1

Fun Holiday – Polar Bear Plunge Day
Also known as Polar Plunge, Polar Bear Swim Day, New Year's Dive, Loony Dook
Start off the year with an act of daredevilry. Celebrate Polar Plunge Day on January 1 by taking a dip in the cold, freezing waters of your local lake, river or pond.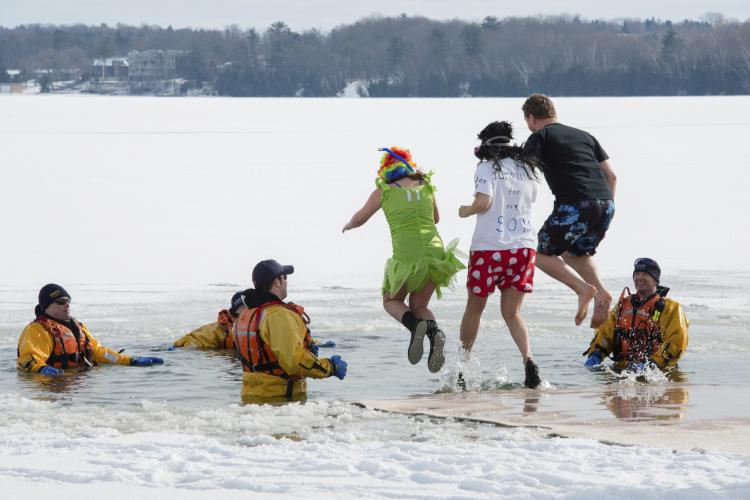 The Polar Bear Plunge, where participants jump into a cold water body, is an activity usually held in the Northern Hemisphere. It is a popular New Year's Day tradition in the United States, Canada, United Kingdom and Netherlands. In these countries, many people organize and participate in a Polar Bear Plunge for charity.
Too cold? Celebrate Swim a Lap Day in June instead.
How to Celebrate?
If you are brave enough to participate, find a pond, lake, the sea or just fill up your bath with freezing cold water and take a plunge.
Support someone who is participating in a Polar Bear Plunge for charity.
In the Southern Hemisphere? Then you probably want to celebrate Polar Bear Plunge Day every day until the summer is over.
Did You Know…
… that polar bears have 2 layers of fur and are insulated from the cold with 4 inches (10 cm) of blubber?
Polar Bear Plunge Day Observances
Fun Holiday: Polar Bear Plunge Day Observances
Year
Weekday
Date
Name
2023
Sun
Jan 1
Polar Bear Plunge Day
2024
Mon
Jan 1
Polar Bear Plunge Day
2025
Wed
Jan 1
Polar Bear Plunge Day
2026
Thu
Jan 1
Polar Bear Plunge Day
2027
Fri
Jan 1
Polar Bear Plunge Day
2028
Sat
Jan 1
Polar Bear Plunge Day
2029
Mon
Jan 1
Polar Bear Plunge Day
2030
Tue
Jan 1
Polar Bear Plunge Day
2031
Wed
Jan 1
Polar Bear Plunge Day
2032
Thu
Jan 1
Polar Bear Plunge Day