Mar

27

Fun Holiday – Spanish Paella Day
March 27 is Spanish Paella Day. Celebrate this unofficial holiday by cooking this rice and saffron dish.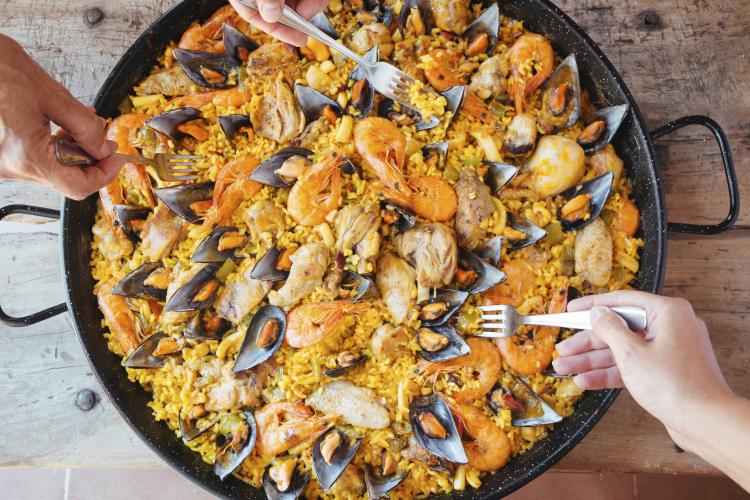 Paella is a quintessentially Spanish rice dish that is thought to have originated in the Valencia region of Spain.
Rice and Saffron
The dish is typically made of rice, different kinds of beans, and meat. It is flavored with saffron, paprika, and other spices and herbs.
Different Types
At least two different versions of the dish exist. Seafood paella replaces the beans and the meat, which is usually chicken, rabbit, or snails, with seafood. Common seafood additions to the seafood paella are lobster, mussels, and shrimp. Mixed paella, on the other hand, includes both meat and seafood.
Special Pan
Paella is usually cooked over an open fire in a large shallow steel pan with two handles, also called paella. Tradition has it that diners must eat directly out of the pan.
How to Celebrate?
With some paella, of course! Whip up a batch at home or visit your local Spanish restaurant to enjoy this delicious rice dish.
If you have always wanted to visit Spain, what better excuse to book your next vacation to the country and sample some local paella?
Did You Know…
…that the paella comes from the Latin word patella, meaning pan?
Spanish Paella Day Observances
Fun Holiday: Spanish Paella Day Observances
Year
Weekday
Date
Name
2023
Mon
Mar 27
Spanish Paella Day
2024
Wed
Mar 27
Spanish Paella Day
2025
Thu
Mar 27
Spanish Paella Day
2026
Fri
Mar 27
Spanish Paella Day
2027
Sat
Mar 27
Spanish Paella Day
2028
Mon
Mar 27
Spanish Paella Day
2029
Tue
Mar 27
Spanish Paella Day
2030
Wed
Mar 27
Spanish Paella Day
2031
Thu
Mar 27
Spanish Paella Day
2032
Sat
Mar 27
Spanish Paella Day