May

21

Fun Holiday – Talk Like Yoda Day
Talk like Yoda Day it is on May 21. The day honors the popular Star Wars character whose grammar is any language teacher's worst nightmare.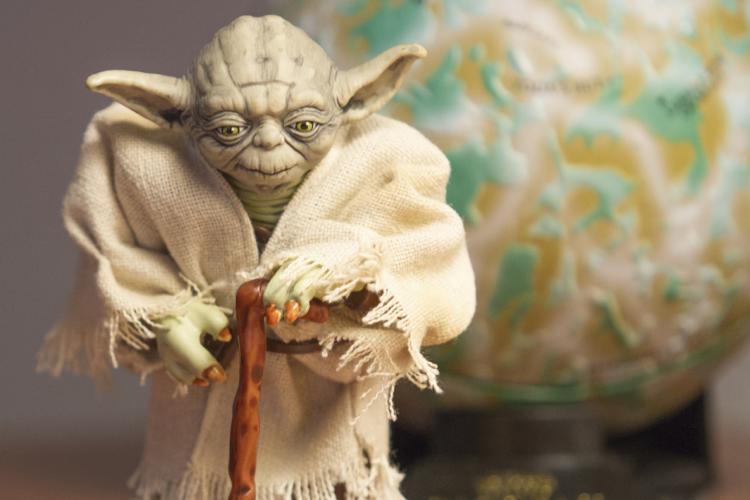 Yoda is a fictional Star Wars character created by George Lucas. Known as the oldest wisest and most powerful Jedi in the Star Wars universe, Yoda made his debut appearance in The Empire Strikes Back, which was released in the United States on May 21, 1980. He has since appeared in over 50 films and TV shows.
Mysterious History
While many of the Star Wars characters have a background story, much of Yoda's background is a mystery. No one knows where he comes from or what species he belongs to.
Peculiar Way of Speaking
Yoda has a peculiar style of speaking. His language, Yodish, is similar to English except the sentence structure follows the order of object-subject-verb instead of the usual subject-verb-object order that English speakers follow while constructing sentences.
It is believed that the puppet used to play the character in the Star Wars movies was modeled after Einstein's appearance.
The holiday is also sometimes known as National Talk like Yoda Day or International Talk like Yoda Day.
To celebrate how?
Yoda, talk like. Simple, it is. Add verb and subject at the end of your sentence in the order of object-subject-verb.
Have a Star Wars themed party and have your friends come up with their favorite Yoda quotes.
Do a Star Wars marathon.
Learn more about Yoda's background and history - as much as is available.
Show off your Star Wars geek pride. Wear a Star Wars inspired costume or t-shirt the whole day long.
Did You Know…
…that there is a deep-sea worm named after Yoda? The Yoda purpurata can be found about 1.5 miles (2.4 km) below the surface of the Atlantic sea.
Talk Like Yoda Day Observances
Fun Holiday: Talk Like Yoda Day Observances
Year
Weekday
Date
Name
2023
Sun
May 21
Talk Like Yoda Day
2024
Tue
May 21
Talk Like Yoda Day
2025
Wed
May 21
Talk Like Yoda Day
2026
Thu
May 21
Talk Like Yoda Day
2027
Fri
May 21
Talk Like Yoda Day
2028
Sun
May 21
Talk Like Yoda Day
2029
Mon
May 21
Talk Like Yoda Day
2030
Tue
May 21
Talk Like Yoda Day
2031
Wed
May 21
Talk Like Yoda Day
2032
Fri
May 21
Talk Like Yoda Day